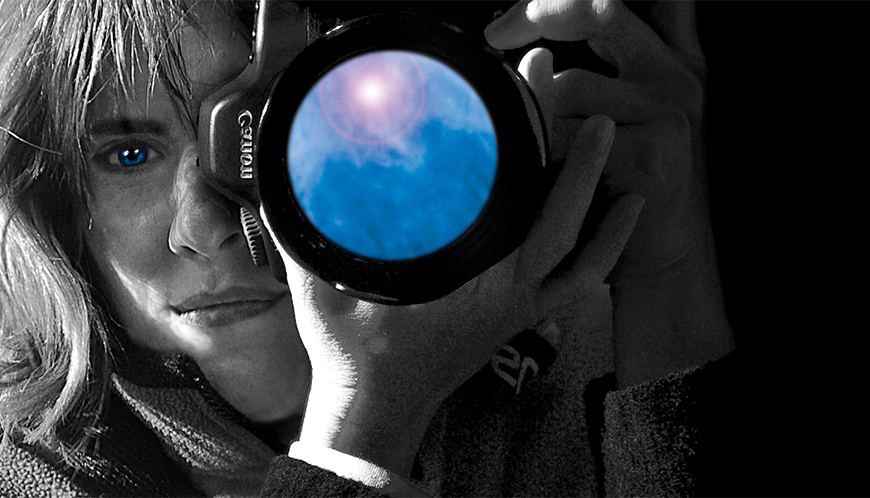 A truly beautiful photo should mesmerize and inspire!
I LOVE what I do! This isn't a job to me... this is a passion for me! I strongly believe that a key element to my clients loving the work that I've created for them... is my enthusiasm and passion for what I do. Without this passion... there is no art. As an artistic photographer, I focus the bulk of my portfolio on poetic portraits, mesmerizing bodyscapes, breath-taking horse portraits, powerfully sexy motorcycles, and thought-provoking conceptual creations. I am very fortunate in that I love finding and capturing the beauty in almost everything I see. I am never satisfied with "acceptable". I am constantly pushing myself to learn more, master existing skills, explore new techniques, pushing the envelope of "traditional" in order to achieve that "WOW" factor and bring each client immense joy in the work I'm doing for them.
My love of photography started in 10th grade. We couldn't afford a camera, so one of my friends from a youth church group I belonged to gave me his old Canon AE1. I still own that camera and she has a special spot in my office. As long as I treat her with the dignity she deserves, she still takes the best grayscale film images! Today my tools of "the trade" are a Canon 5D Mark IV and a Canon 7D Mark II...complimented by white and red line Canon glass and Sigma Art glass. I run a complete Adobe "digital" studio...with both Photoshop and Lightroom being my modern "darkroom". From "Orton" to "HDR" to sepia and selenium tones and grayscale... every technique is at my fingertips. However... I have a belief that if I can't capture the very best of someone with only my camera, then no amount of software "gadgetry" will "fix" the image!
I developed a passion for creative artistic photography while in high school (back in the 80's) and I've never looked back...other than to wistfully remember MANY amazing hours spent in the darkroom. Back then I specialized in capturing the street-life of the local punk crowd. In the 90's I moved to Southern California and became immersed in the exotic world of the Pura Raza Espanola (Spanish Horses)... spending almost every weekend doing ranch photoshoots for clients. To this day, one of my favorite photo shoots is still a Portuguese-style bullfight I captured in Artesia, California...right in the middle of the city. I'll never forget the dust and crack of one specific bull slamming his head into the barrier I was crouched next to. The end of my lens was only three inches away from his furious eyes. SUCH great photos!!! Bull snot is hard to get off camera glass...btw! When I moved back to Pennsylvania in 2005 my portfolio took a bit of a right turn... down a path full of explosive and gun ranges, working K9, Law Enforcement, artistic portraits, and oh so sexy Harley's... and I LOVE it! I've never enjoyed being "predictable" and even as I get older and wiser, I still find myself breaking out of the boxes I tend to develop around my creative self. A while back someone asked me what my passion is... and I couldn't put the answer to words. I told them to look at my photostream on my website or on my business FB page. My passion is... PASSION! I want to always feel and be passionate about everything I do, see, read, watch, touch and learn. For me, GREAT artistic photography is 60% Creative and 40% Technique! I'm always searching for that "moment" when a person actually connects with me and shows me their soul...THAT'S when I hit the shutter... thats when I capture the "art" of a portrait.
I invite you to browse through my extensive portfolio, and if you don't find what you're looking for... please take a moment to visit my other business website: www.88dragon.com. 88 Dragon is home to my graphics and logistics photography business. I hope that my work has inspired you to book a consultation with me so we can discuss your photography (or graphics) needs. You can reach me at: email